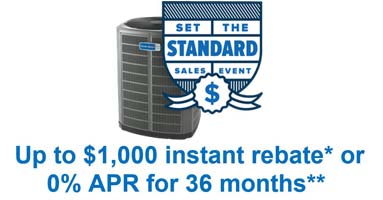 Allergens such as mold, mildew, fungus, pet hair, dust and pollen can wreak havoc on your health, and unfortunately, most older AC systems can allow up to 72 trillion allergens into your home every day.
Luckily, American Standard heating and cooling systems are built to clear allergens, and they are even able to remove up to 99.98% of all allergens in the air. Better still, American Standard products provide moisture, which improves air quality even more.
At Alan's Air Conditioning, we carry a broad range of American Standard heating and cooling systems. These systems are known for their long-lasting and durable dependability, and as a American Standard Customer Care Dealer, we are here to ensure that they stand the test of time.
---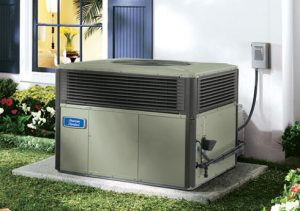 Alan's Air Conditioning was handpicked by the American Standard team for our extensive product knowledge and outstanding customer service. We are a proud Customer Care dealer and can answer any questions you might have about the full line of American Standard products.
Each of American Standard's HVAC systems can be tailored to your unique residential or commercial environment's needs. American Standard systems also utilize the optimal amount of energy to ensure your comfort, by working smarter – not harder. American Standard Heating & Air Conditioning has been renowned in the industry for more than 100 years. Let us help you create the comfortable environment you deserve by contacting our Customer Care representatives today!
*See your independent American Standard dealer for complete program eligibility, dates, details and restrictions. Special financing offers OR regular rebates from $100 to $1,000 with the potential to add a $200 and/or $300 bonus valid on qualifying systems only. All sales must be to homeowners in the United States. Void where prohibited.
**The Wells Fargo Home Projects credit card is issued by Wells Fargo Financial National Bank, an Equal Housing Lender. Special terms apply to qualifying purchases charged with approved credit. The special terms APR will continue to apply until all qualifying purchases are paid in full. The monthly payment for this purchase will be the amount that will pay for the purchase in full in equal payments during the promotional (special terms) period. The APR for Purchases will apply to certain fees such as a late payment fee or if you use the card for other transactions. For new accounts, the APR for Purchases is 28.99%. If you are charged interest in any billing cycle, the minimum interest charge will be $1.00.
This information is accurate as of 6/1/2017 and is subject to change.For current information, call us at 1-800-431-5921. Offer expires 12/31/2017